Assembly plant
Consistent support from design to production (parts processing/assembly) and evaluation
This is a production factory that can handle everything from design to production (parts processing and assembly) to evaluation of devices, appliances, modules, special LED lamps, etc. In addition, in order to realize production that can respond to changes and fluctuations in production items and production volume, we have adopted a small-line production method. This is a production method that can accommodate prototypes, special orders, and high-mix, small-lot production. Please feel free to contact us.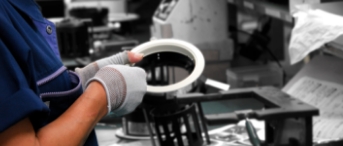 Merit
Benefits for customers
Merit 1
Cost performance achieved through flexible response capabilities
We can offer you a fair price that matches the market price. This is because we have built a flexible production system that allows us to respond to various requests such as [prototype production], [custom order/high-mix small-lot production], and [mass production] using the optimal production method. By building an appropriate system to meet customer needs, we are able to achieve cost performance that satisfies customers.
1

Trial production

We have a production line dedicated to prototyping, and multi-skilled workers (*1) handle the work to keep quality and costs down.

2

Special order/Multi-variety small lot

Products with a small production volume (about 30 pieces or less) and large production fluctuations are produced on a small line (*2) to keep costs down even if the production volume fluctuates.

3

Mass production

For products that can be secured in stable quantities, we build a dedicated line to further reduce costs and stabilize quality.
+ Example of small production line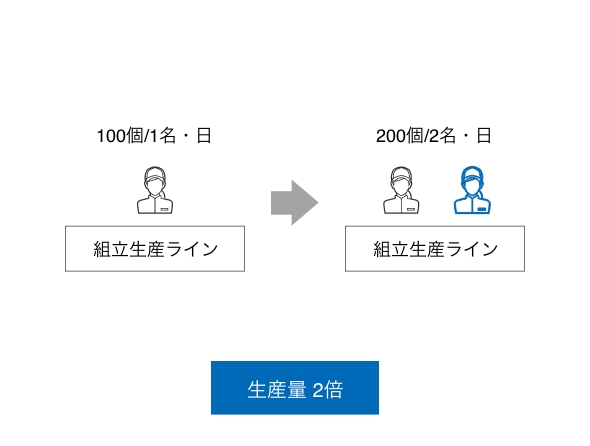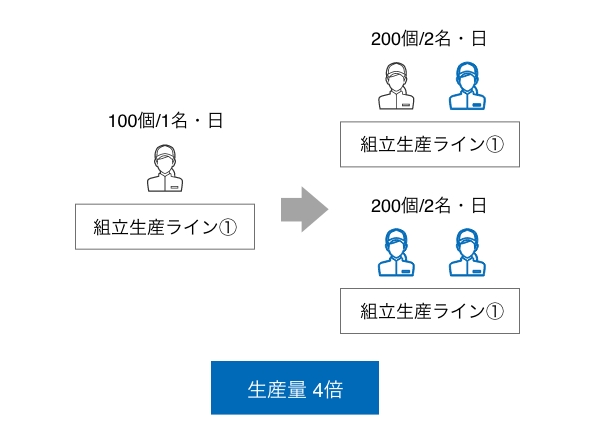 ※1 :

A multi-skilled worker is "to proceed with multiple tasks and work alone"

※2 :

A small line is not a mass production line, but a line that can produce several hundred pieces per day in a small space.
We will change the number of products that can be produced by changing the personnel so that the production P/H (*3) will not drop. A small line is a production method that does not affect costs even if there is a change in production volume.

※3 :

Production P/H (per head):Means production per person. By stabilizing this number, the cost is stabilized.
Merit 2
Achieving short delivery times and high quality by "reducing lead time" from prototype to mass production
1

By having a dedicated line for prototype production, we aim to shorten the delivery time for prototypes.

2

Technology and quality control work together to conduct

DR (design review).

3

Since we are able to conduct a certain level of evaluation, we will make a judgment before providing a prototype to the customer.

4

By placing technology, quality control, manufacturing, and production operations on the same floor, we are working to strengthen collaboration and save time.
What is DR (Design Review)?
In the design process of planning → basic design → principle prototype → detailed design → first prototype → mass production prototype, the people involved in planning, development, design, manufacturing, quality, purchasing, etc. gather together for each point and identify the items that need to be met. Evaluate from each perspective. This is a method of proceeding to the next step after confirming that the standard has been exceeded, and prevents rework from later processes.
Merit 3
Increase efficiency and QCD through frequent collaboration between production plants and product design
Our company employs product designers (engineers), who actively intervene in the production factory. By doing so, we are able to design not only the functionality and design of the product, but also the subsequent processes, which improves efficiency. As a result, it can lead to improvements in [QCD (Quality, Cost, Delivery)]. Increasing QCD will lead to a return to the customers who place orders, so we will continue to make even greater efforts to ensure greater satisfaction and long-term relationships with our customers.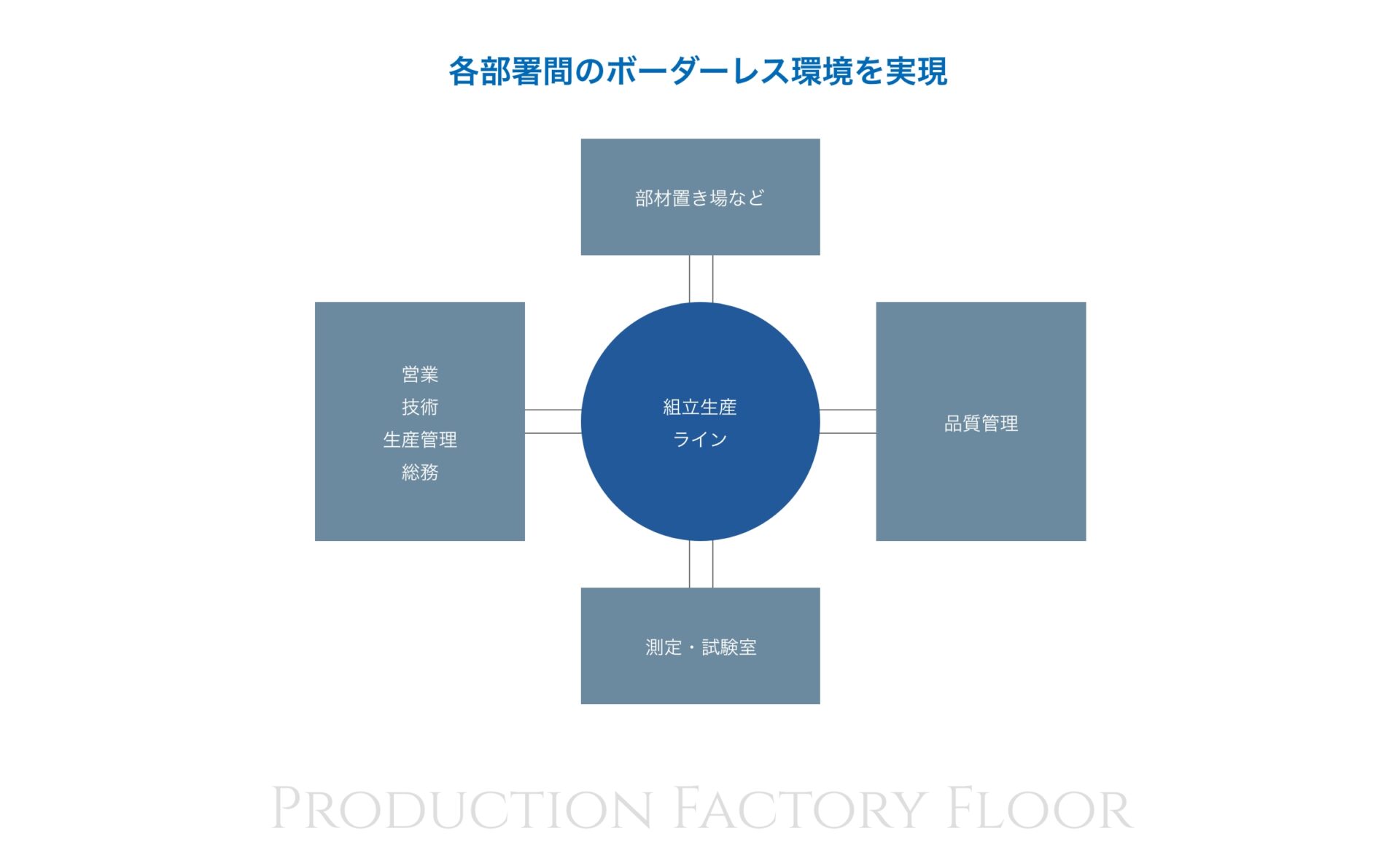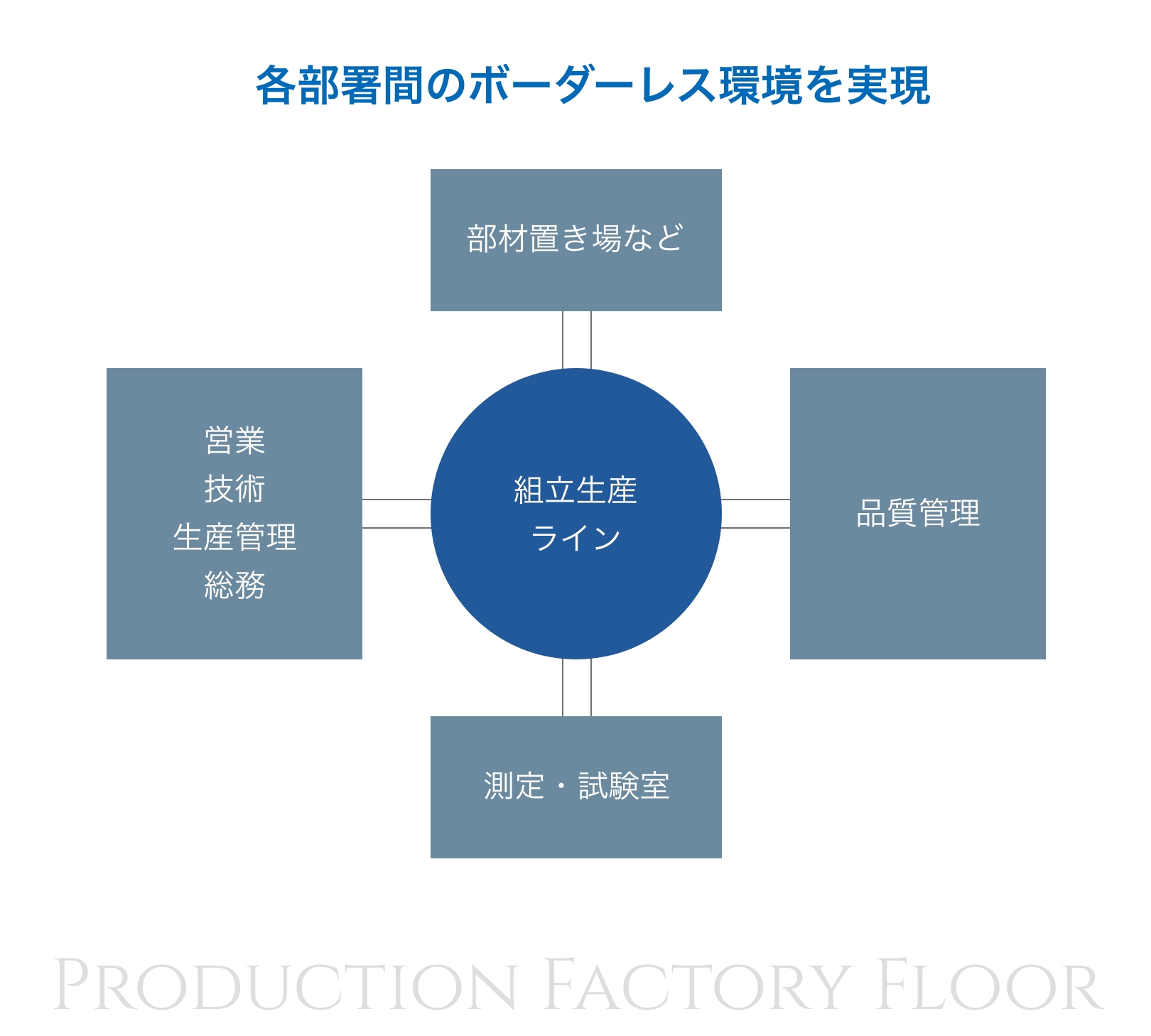 Merit 4
Achieving stable QCD by suppressing production line variations
In order to enable high-mix, low-volume production, we are striving to standardize work and develop multi-skilled workers. In terms of implementation, in order to eliminate "variations in quality" and "variations in production time" that occur due to changes in workers, we are also working on the use of jigs to stabilize QCD. In addition, in order to quickly respond to production fluctuations, we are strengthening cooperation with production management and responding by repeatedly formulating and revising production plans on a daily, weekly, and monthly basis. By improving QCD through design that takes manufacturing into consideration and further stabilizing the improved QCD, we can deliver products of better quality to customers faster and make them more valuable. This is based on the repetition of PCDA that we work on every day.
Entire assembly plant