Please take advantage of
our convenient online interviews.
Morimitsu SCM accepts consultations/interviews online (ZOOM).
Customers who would like to have a direct discussion regarding requests such as estimates and prototypes.
Customers who would like to tour the factory
Media personnel wishing to interview  etc…
Online interview (ZOOM) steps
STEP1

Book an interview

First, please use the application form below to reserve an interview at your desired date and time.
We will make adjustments to suit your needs, such as production requests, factory tours, and interviews.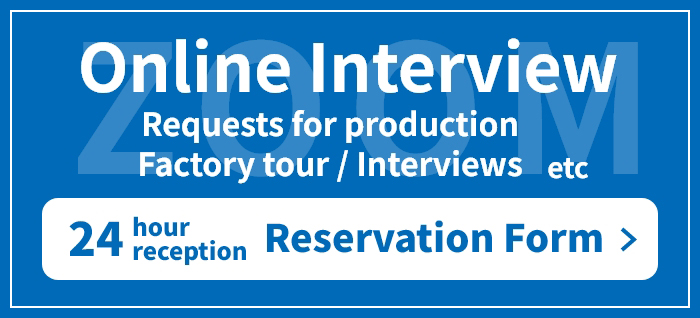 Regarding reservations made by customers, if any of the following apply, we may refuse the online reservation or suspend the online reservation on the day at our discretion.

If there is no response from the customer even after a certain period of time has passed after we have sent some kind of communication.
If the characters entered at the time of reservation are garbled and cannot be read.
If the Company determines that the content at the time of reservation is defamatory or harassing towards the Company or its employees, etc.
If the Company determines that the information entered at the time of reservation does not match the purpose of use.
If you provide the normally required answers to the reservation details before the online interview and the Company determines that the matter has been resolved.

If you have configured domain reception settings, we apologize for the inconvenience, but please use the following domains.
Please set your settings so that you can receive emails from "@seiko-scm.co.jp".
By making a reservation, you are deemed to have agreed to all of the above points.
STEP2

Confirmation/confirmation of interview date

You will receive an automatic reply email.
Please check that the information is correct and wait until the online interview date.

FAX.06-6729-0660
Business hours 8:30-17:30
(Closed on Sundays and days designated by our company)
TOP page