We are pleased to introduce Home Decore's new showroom in Minami Aoyama.
The name of the store, "Primetoff," means "fine fabric" in French.
The showroom is fully stocked with a diverse collection of fabrics, wallpapers, and paints from Japan and abroad.
It is a wonderful shabby chic space.
It is a 4-minute walk from Nogizaka, close to Roppongi Midtown.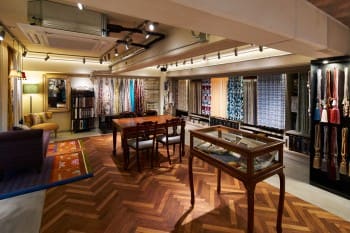 From the client –

Before being a light source as a spotlight, the form of the fixture itself is very cool.
In a fabric showroom like ours, it is important to show off its color and texture more beautifully, and we are very pleased with the low glare and good color rendering.
The dimming function allows us to fine-tune the lighting for various situations and times of day, which we appreciate.


From a design firm –

I like the spotlights because they are a good visual and spatial match.
Also, the light and dark are clearly defined, giving the space more depth, and the atmosphere is even more wonderful than we had imagined.
I appreciate that the downlights are also invisible, so the fixtures themselves are not noticeable.
Next time I would like to use 'brass' spotlights!