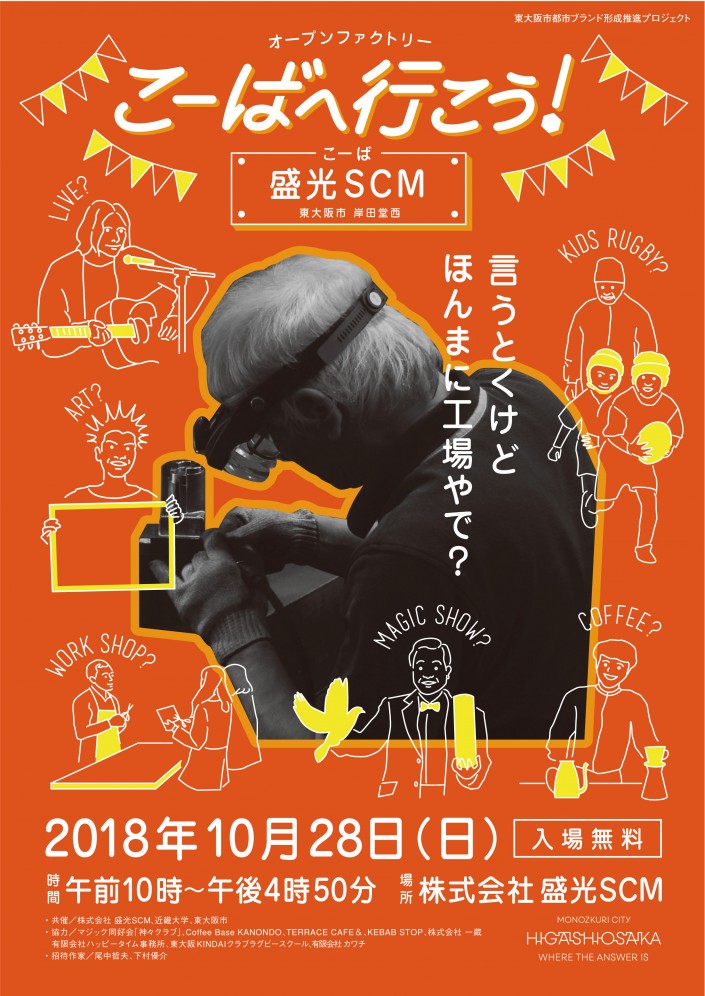 Morimitsu SCM, Kinki University, and Higashi-Osaka City will co-host an open factory event, "Let's Go to Kooba! will be held jointly by Seiko SCM, Kinki University, and Higashiosaka City! Since we do not usually have direct relationships with citizens and students, we rarely have the opportunity to get to know each other.
Therefore, we have decided to open our factory, which is usually closed to the public, as a special venue for this event, so that people who usually pass by the factory can learn what is being made there and experience the joy of manufacturing.
This is the first open factory in Higashiosaka City to be held in collaboration with industry, government, and academia. In addition, there will be many rugby-related events in preparation for next year's Rugby World Cup. This year's event will be held as a preliminary exercise to prepare for the future next year and beyond.
Although it is only a one-day event, we are planning and preparing a variety of events for everyone to enjoy to the fullest. We hope that you will come to this event with your family, colleagues, and friends, and that the factory will serve as a base of communication.
We sincerely hope that from next year, together with more companies that support the event, we will be able to revitalize companies and the community with the unique spirit and power of Higashi-Osaka. We will also be posting details of the event on our Instagram and Facebook pages!
Open Factory "Let's Go to Kooba!"
■Date: Sunday, October 28, 2018, 10:00-16:50
Venue: Morimitsu SCM Co.
Co-sponsored by Morimitsu SCM Corporation, Kinki University, Higashi-Osaka City
Guided tours of the factory
Art exhibits (rugby art, paper cutout installations, mold dioramas)
Marche (kitchen car, cafe, leather goods, 1tsubo store, mini games, etc.)
Kids rugby classes
Kids Rugby Workshop ・Manufacturing Workshop (Let's make a rugby field, Giant rugby ball decorated with paper cut-outs, Metal Craft Kit)
Live stage (magic show, kids' dance, a cappella, guitar performance, street music)
Related URL (Kinki University, Faculty of Literature and Arts): https: //www.kindai.ac.jp/lit-art-cul/